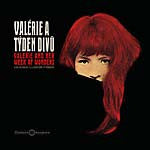 Finders/Keepers
Valerie and her Week of Wonders Limited Edition 7"
RSD 2017 release. Housed in unique packaging based on a rare variation of the original Czech film poster. Limited edition of 1000. Finders Keepers Records celebrates the 2017 10-year anniversary of the label's 2007 release of the Czechoslovakian soundtrack to the 1970 surrealist new wave masterpiece
Valerie and Her Week of Wonders
(
Valerie a týden divů
) with a very special 7" EP of previously unreleased variations, vocal tracks, and newly resurrected themes from the original master tapes of composer
Lubos Fiser
. Possibly the most treasured modern surrealist artifact from the vibrant and indelible Czech New Wave "film miracle" (alongside
Věra Chytilová
's
Daisies
(1966) and
Fruit of Paradise
(1970)),
Valerie and Her Week of Wonders
was directed by the controversial
Jaromil Jires
(a member of the original '60s FAMU film school community) and featured young freak fairytale regular
Jaroslava Schallerová
(
Malá mořská víla
(1976)) and
Helena Anýzová
(
Daisies
,
The Cremator
(1969)), but in addition to its stunning cast and breathtaking design and costumes (by
Ester Krumbachová
), it was in fact the delicate European cinematic small-orchestra score that would future-proof this film for decades after it was first released in the eye of a 1970 communist censorship cull (thus earning
Valerie
the highly touted and debated status as the final film of the CNW). Rewound, mislead, misinterpreted, over-analysed, and undersold,
Valerie and Her Week of Wonders
would be scantily syndicated and repackaged in various decontextualized arenas throughout the '80s and '90s via B-movie and Euro-sleaze channels before being eventually adopted by the VHS generation with the reignition of films by
Jess Franco
and
Jean Rollin
; it finally regained its rightful status as a genuine European new wave masterstroke emerging from the rubble of the final fall of communism in the early 90s. Expanding on a soundtrack that would form a direct inspiration for bands like
Broadcast
and
Espers
, this seven-track 7" also features macabre sound design, effects, and dark atmospherics that are not available on the Finders Keepers LP version.
---
More from this collection