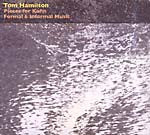 Kvist
Tom Hamilton Pieces for Kohn/Formal & Informal Music Double CD
"Kvist Records presents this 2CD release, reissuing out-of-print works originally released on the artist's own Somnath label. Although Tom Hamilton's more recent CDs (
London Fix
,
Off-Hour Wait State
, and
Shadow Machine
) are well known to fans of electronic music and reviewers alike, his earlier LP recordings became known as underground classics to the collectors of independent music from that era. This 2CD set was made from the original master tapes, and brings to light some of the best work of Hamilton's highly prolific St. Louis years, starting decades before he became involved with musical life in downtown New York. In the 1970s, Hamilton was working in semi-isolation, though connected to a burgeoning arts scene in St. Louis, and developing his idiosyncratic techniques with the ARP and Serge modular analog synthesizers of that era. The first CD,
Pieces For Kohn
, is comprised of four multi-layered electronic pieces, musical responses to four paintings by artist Bill Kohn. The second CD,
Formal & Informal Music
, contains the title piece 'Formal & Informal Music' (1980), and 'Crimson Sterling' (1973) -- both featuring improvisations by JD Parran, woodwinds, Rich O'Donnell, percussion, and Hamilton on analog synthesizers. The music on these CDs establish some of Hamilton's most prominent style characteristics: clouds of fast pitches hinting at pointillistic and kinetic imagery; suggestions of tonality without real resolution; and highly-charged rhythms contributing to intricate textures -- sometimes existing on their own, sometimes offering accompaniment to improvising soloists." Includes a 20-page booklet with liner notes by Hamilton and historic photos.
---
More from this collection