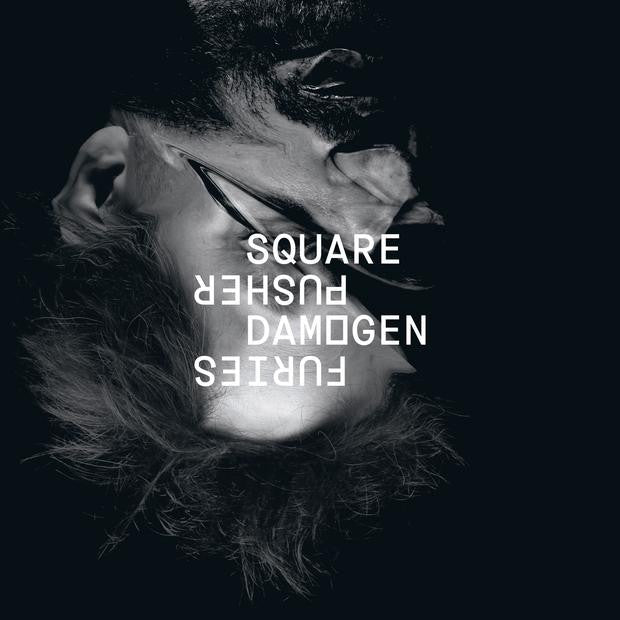 Forced Exposure
Squarepusher DAMOGEN FURIES Vinyl
DAMOGEN FURIES
"Through this record I aim to explore as forcefully as possible the hallucinatory, the nightmarish and the brutally visceral capacities of electronic music."
Just as electronic music fulfils its commercial potential, so too does the inevitable breakdown in innovation reach its nadir. What was once a revolutionary mode has collapsed into conservatism, the retromanic tendency of contemporary dance music laid barer with every new blockbuster release. Once, everything was possible – once, electronic music could hold an unflinching mirror to the world it was birthed in. Today it no longer makes such interventions.
What we've lost, perhaps above all else, is the passion. DJ culture has melted in on itself; innovators have made their pension plans. And then there's Squarepusher.
Squarepusher's legacy is unassailable. From his early releases on Rephlex and his residency at the Blue Note, through his aggressive interpretations of ensemble jazz, the peerless Music Is Rotted One Note, his musique concrète experiments, and the boundary-warping drum 'n' bass with which he is synonymous, Squarepusher has tilted ever forwards. 
Damogen Furies, his first full-length since 2012's Ufabulum, sees Squarepusher's powers in full flow. The techniques and craftsmanship that he has honed over the course of his career have become some of his signal qualities. He has spent the last decade creating and refining his own unique software system, and this album is the first to be made using that system exclusively. It is the culmination of years spent experimenting with and hacking hardware and software, having long since abandoned the limitations of out-of-the-box offerings. Squarepusher has remained truly experimental in part because he has rejected those limitations, choosing instead a compositional process that places the act of building instruments at its heart. On Damogen Furies we hear a truthful, unembellished representation of how those instruments sound. All of the recordings here were made in one take, with no edits.
Damogen Furies is also a response to performance. Squarepusher revelled in the long run of shows that followed the release of Ufabulum, and the robustness and forthrightness of this album is testament to that. Ufabulum was a record born very much of the studio, made using equipment that was cumbersome. Such a static setup made it difficult for Squarepusher to work while on the road. Inspiration can be bounded by time and place, and he wanted the opportunity to seize that inspiration when it happened. For 2015 he has ensured that the system he has spent so many years developing can be easily transported, allowing him to work while travelling but also offering the opportunity for the new live show to constantly morph. The new live set has the capacity for change built in, questioning the position of the recorded artefact as the definitive expression of a piece of music. This new setup ensures that this is perhaps his most immediate record, transposing the power of his performance practice while also anticipating his new live show.
The time between Ufabulum and Damogen Furies was not only taken up with touring. Last year's Music For Robots saw Squarepusher composing for a trio of robots – a 22-armed drummer, a 78-fingered guitarist, and a keyboardist who plays his instrument with a laser. The project raised questions about the extraction of ego from the archetypical 'band' setup, but also freed his compositions from the constraints of human anatomy. At the other end of the spectrum, he has recently completed a run of shows in which Ufabulum was reimagined for an orchestra, led by conductor Charles Hazelwood. 
Throughout his career, Squarepusher has engaged with two distinct traditions in particular: that of Miles Davis-school jazz, and that of dance music. On Damogen Furies those two traditions intersect and interact, synthesised into a record that often straddles nightmarish drill 'n' bass and the early work of electric jazz pioneers. For example on 'Kontenjaz' or 'Baltang Arg', a virtuosic melodicism sits atop macabre, unearthly percussion, a middle finger to all those who believe that musicianship is the preserve of the defanged conservatoire. 
Damogen Furies is a record that has the brutal energy and vivaciousness of a debut. It sees the peak and confluence of the preoccupations that have emerged throughout Squarepusher's career, approached with the antagonism and audacity of an artist who still believes in the power of the intervention.
---
More from this collection