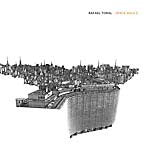 Staubgold
Rafael Toral Space Solo 2 CD
Rafael Toral
presents
Space Solo 2
on Staubgold: "
Space Solo 2
is the final release in the Space Program series, which started with
Space
(STAUB 069CD/TAIGA 001LP, 2006). Ten releases were originally projected, but the ideas I wanted to explore in a sustained and systematic way have already been fulfilled in these six records. For that, and a number of other reasons, I decided that I will be able to move with more room and freedom outside this structure that is now completed. The
Solo
series is meant to be reference documentation to my solo performance at the time of their release, on various instruments.
Space Solo 2
showcases a different set of instruments from
Space Solo 1
(QUECK 011CD/TAIGA 002LP, 2007), namely the glove-controlled sinewaves from the first years, a rarely performed modular synthesizer solo, the Theremin-controlled modulated feedback, and a contemporary approach to the electrode oscillator (featured on
Space Solo 1
on a simpler configuration). All tracks are edited recordings of real-time solo performance. As a rule in the Space Program, there is no processing or transformation of sounds, all sounds are heard as originally played (except for mastering sound calibration). There is no 'programming' (as in sequencers or digital devices), no samples or software involved (except editing and mastering software and except tracks 9, 10, 11)."
---
More from this collection