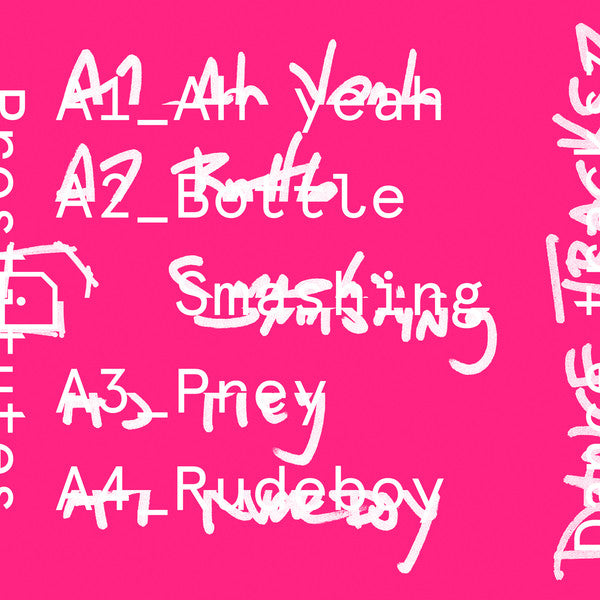 Forced Exposure
Prostitutes - Dance Tracksz - vinyl
Prostitutes - Dance Tracksz
Dance Tracksz
 is the body-checking return of 
Prostitutes
, aka 
James A. Donadio
, to Diagonal; a no pretenses rave set built minimal and raw for hard worked 'floors. The label's Cleveland, Ohio ambassador has cut out any sentimentality and gone straight for the rave jugular with no concession to ascetic consistency, knocking up one of his fiercest examples of brutalist funk in the process. It's Prostitutes' third and most substantial release for Diagonal, a swaggering and unzipped affirmation of the styles on 2013's 
Shatter And Lose
 and 
Ecstasy, Crashing Beats And Fantasy
 from 2015 (DIAG 015EP), and clearly catches the label's close ally in the mood for getting wasted. Prostitutes' 
Dance Tracksz
 are schooled with the sort of street knowledge and bluntness that perhaps comes from life as a techno-punk in a blue collar industrial city such as Cleveland, OH: the bullish, PCP-style hardcore bookends of "Ah Yeah" and "War Goes On" say their piece in no uncertain terms, whilst "Bottle Smashing" spits pure industrial street funk and "Prey" deals in riot-inciting jungle-techno. Even the album's sole moment of sentimentality, "I Luv U Bruv" - a gesture of affection for his label boss, 
Powell
 - is delivered with an acrid lash of electro-techno, but at least you know he means it. In a sound world spoilt for choice, Prostitutes' refusal of shiny tricks is admirable and almost subversive in the face of hands-in-the-air breakdowns, but there's something about the way he wrenches out every last drop of rusty, jacking funk from his machines that leaves no doubt about 
Dance Tracksz
 effect at close quarters. Artwork by 
Guy Featherstone
. Mastered by 
Matt Colton
. Edition of 500.
---
More from this collection