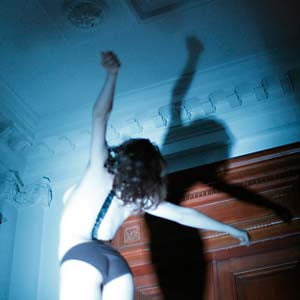 Aurora Borealis
Orphan Swords License to Desire LP
Orphan Swords
see the reissue of their
License To Desire
LP, originally released in 2015. The Belgian duo, formed in 2013, bring a heady, fog-shrouded sonic maelstrom to Aurora Borealis, perfect for the post-truth era. What sort of music is this? What genre do you file it under? Hard to say. There's chaos, there's unhallowed chanting, there's some fierce rhythm and there's undeniably some abuse of electronic equipment. It's best to leave the definitions up to the listener, but with titles referencing demons of Goetia and the world's oldest profession, you should let the good times roll. Their music, described as "
a brutal hypnosis
" by Ransom Note, has been released on Desire Records, Clan Destine and Idiosyncratics. Idiosyncratic is indeed a description that perfectly fits both their releases and live performances. Recently back from the US, they have shared bills with acts as diverse as
Oathbreaker
,
Andy Stott
, and
Vatican Shadow
. Their new collaborative side project
Black Swords
, with
Stuart Argabright
of
Black Rain
, was released on Vienna's Noiztank label (2017). Black/white label; Comes in full color folder sleeve, in heavy PVC outer sleeve; Includes download code; Edition of 200 (hand-numbered).
Resident Advisor's review of
License To Desire
: "
The ten-minute 'Marchosias' . . . builds into a droning blur with surging drums, echoed, incomprehensible vocals and all sorts of sharp edges. 'Asmoday' conjures its own mass of screeching, cackling distortion, but adds an icy sense of melody through a few sustained synth riffs, and fixes everything to a rolling kick. 'Hooker' is the most subdued thing yet from Orphan Swords, but it's no less potent. Its steady bass thrums and light, hazy swirls of harmonized noise make for a supremely soothing comedown.
"
---
More from this collection