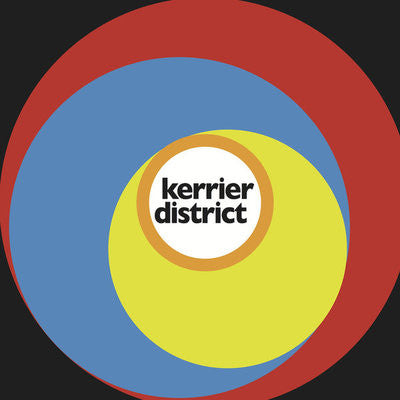 Forced Exposure
Luke Vibert Kerrier District - London Grooves - vinyl
Luke Vibert Kerrier District London Grooves 
Jaw-dropping disco LP from Luke Vibert under his Kerrier District alias given a much-needed reissue by Hypercolour, originally out in 2004 on Aphex Twin's Rephlex label and criminally unavailable until now. Praised by all who hear it, Kerrier District is a melting pot where deep acid, New York garage and dub-disco all blend together to create one of the best modern electronic funk albums of the past twenty years. Taking a wedge of influence from Black Devil Disco Club's 1978 self-titled LP/EP (depending on who you ask) and originally issued on Rephlex the same year they reissued BDDC, Kerrier District instantly became something of an underground classic, providing a border crossing for fans of library rooted deep disco and the more electronica referencing drill 'n' bass fans of Rephlex/Vibert/Aphex. 
Using an army of analogue synths, drum machines and boogie rhythmic samples, Kerrier District is an LP almost out of time with all else in this style, while it has that old school edge it sounds neither new and modern (not in a bad way, mind) but also isn't a retro sound, more than anything it truly has it's own unique sound and character, that twelve years after first hearing it has still got us in the groove and with the newly remastered job its properly sounding fresher than ever. 
Every track is pretty much flawless and the keen-eared out there will hear occasional echoes of other Vibert projects (there's a well-placed sample in exactly the same place and track number as used on the Amen Andrews vs Spac Hand Luke LP - go search!) upon its original release Rephlex hailed Kerrier District "a kaleidoscopic ride through disco, funk and MPC beats" and we can't really argue with that. An essential piece of electronica history right here, stick it on, play it loud and everybody get on the disco bus!
Vinyl Track List
A1. Let's Dance And Freak A2. Silhouettes B1. Illogan C1. Disclix C2. Disco Bus D1. New York E1. Yesco E2. Negresco F1. Wide Vice F2. Squaredance.
---
More from this collection