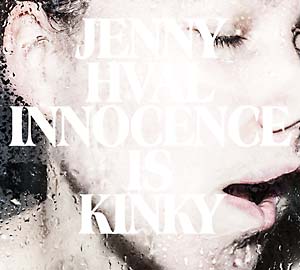 Forced Exposure
Jenny Hval - Innocence Is Kinky CD
Jenny Hval - Innocence Is Kinky CD
Jenny Hval
is known in her native Norway both as a musician (both under her own name, the moniker
Rockettothesky
, and with the duo
Nude On Sand
) and as a published novelist and media commentator. Her songs -- featuring frequently explicit language -- explore subjectivity and sensuality and experiment with male perspectives and voices. But don't call her music "confessional," as that implies guilt and sinfulness, and Jenny makes no apology for who she is or what she's thinking. Hval's previous, acclaimed Rune Grammofon album
Viscera
(RCD 2108CD/RLP 3108LP), recorded with her own free rock trio, overflowed with intimate detail and surrealistic bodily imagery.
Innocence Is Kinky
-- which also features a string section led by avant-garde composer
Ole-Henrik Moe
-- was produced in Bristol, England by
PJ Harvey
collaborator
John Parish
, who helped bring out the intimate qualities of her lyrics and sharpened her improvisational tendencies. Like contemporaries such as
Julia Holter
and
Laurel Halo
, she's weaving spellbinding new forms of intelligent, experimental pop with injections from mythology, theory, gender politics and improvisation. You can also trace her no-holds-barred streams of consciousness and unorthodox subject matter back to earlier heroes such as
Einstürzende Neubauten
's
Blixa Bargeld
(her title puns on their LP
Silence Is Sexy
),
Patti Smith
,
Michael Gira
,
Nick Cave
and
Kate Bush
. Writing music, for Jenny, is closely linked to fiction. Her latest book,
Inn i ansiktet
(trans. "Sings with Her Eyes," 2012), is connected to
Innocence Is Kinky
through its explorations of subjectivity, and in references to
Renée Falconetti
, the French actress responsible for one of the most unforgettable cinematic portrayals of persecution and suffering, as the lead in
Carl Theodor Dreyer
's 1928 silent movie
The Passion of Joan of Arc
. Born in 1980, Jenny lived for a while in Australia, but on tracks like "Oslo Oedipus," her hometown becomes the backdrop to
Innocence Is Kinky
-- a city which, unlike New York or London, has rarely been hymned in song. As she states, "'Oslo Oedipus' is the boarded-up windows after the bomb explosion in July 2011, but it's also the eye that refuses to look back at its own reflection." And that paradoxical "kinky innocence?" "It could be the manifesto of the mass-produced image, and the consumer mainstream industry -- fetishizing and selling every human quality. There's so much mysticism about innocence." Musicians include: Jenny Hval (vocals, guitars, sampling, drum machine, keys, variophon),
Håvard Reite Volden
(electric and acoustic guitars, drum machine, keys, iPad),
Kyrre Geithus Laastad
(drums, perc, keys, drum machine), John Parish (guitars, bass, detuned drums, banjo, variophon, keys, trombone), Ole-Henrik Moe (violin, viola, wine glass, saw),
Kari Rønnekleiv
(violin), and
Espen Reinertsen
(saxophone).
---
More from this collection