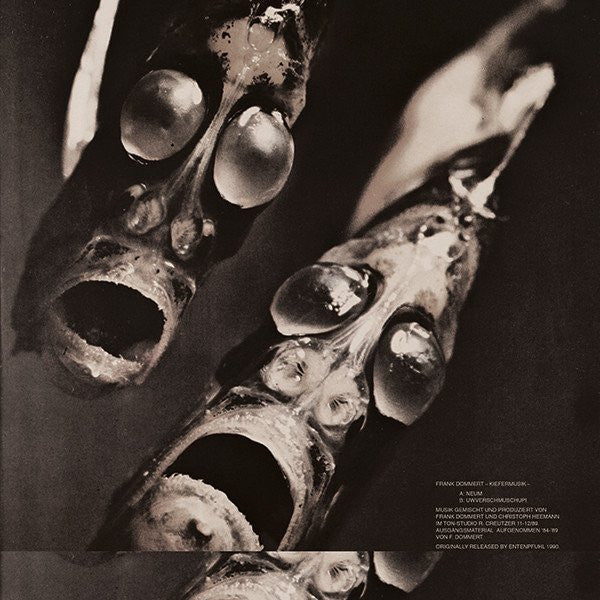 Forced Exposure
Frank Dommert - Kiefermusik - Vinyl
"It seems somehow fitting that Frank Dommert's first solo album, Kiefermusik, was first released in 1990, just a moment after the new decade had ticked over. During the late 1980s, Dommert had been quietly working away at his own art in Cologne, while developing connections with other sub-rosa operatives: in 1987, he took part in a collaborative single with Christoph Heemann and Achim P Li Khan's outfit, Hirsch Nicht Aus Sofa (H.N.A.S.), 'Hunsrück'; he was also part of H.N.A.S. for their side of Face To Face Vol. 2, a split LP with Vox Populi. Dommert was also releasing cassettes in limited editions on his Entenpfuhl imprint, including an early collaboration with Marcus Schmickler, early tapes by PFN and C-Schulz, along with a number of solo cassettes and chapbooks.
"Kiefermusik saw in the new decade by repurposing and recontextualising material from one of those cassettes, Early Loops & Tapes, which consisted of material recorded between 1984 and 1987. Discussing the album in 2015, Dommert confided that he heavily processed these recordings in the studio, with 'the open studio window integrated. The record is pretty much a (LSD) trip, intentional and a large portion unconscious.' It's certainly full of hallucinatory visions, sidereal moments where loops knock you off-kilter and waves of surrealist and Art Brut noise tactics stop you in your tracks. It's simultaneously a rough-as-guts album of collapsing architectures and an intelligent, sensitively sculpted masterpiece of editing, with Dommert winding a psychedelic spool around loops that could spin out into eternity.
"Kiefermusik may well have had more impact in international tape- and record-trading circles than in Dommert's hometown. Dommert had already made connections with fellow travellers like ADN, RRR, Recommended and Odd Size, and the album slowly found its way around the world, connecting with like-minded listeners who were on the look-out for new voices in the heterogeneous, nebulous field of underground, low-tech avant-garde.
"Yet Kiefermusik, along with the electro-acoustic improvisation collective of Kontakta (featuring Dommert alongside C-Schulz, Georg Odijk, Hajsch, Marcus Schmickler and Monika Westphal), the fantastic series of LPs released on Quiet Artworks (PFN, Hajsch, Ios Smolders), and the strange electro satellites from labels like Erfolg (C-Schulz, Marcus Schmickler), seemed somehow to set things up for the next wave to come through, the brilliant explosion of electronic music to come out of Cologne in the mid-late 1990s. And beyond all that, even, Kiefermusik is still a fantastically strange, beautiful, and compelling album, a good twenty-six years later. Don't miss it this time around." – Jon Dale
---
More from this collection