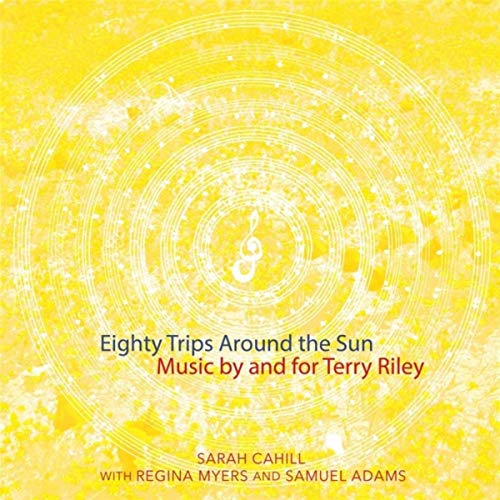 consignment
EIGHTY TRIPS AROUND THE SUN: MUSIC BY AND FOR TERRY RILEY 4 CD box set
EIGHTY TRIPS AROUND THE SUN: MUSIC BY AND FOR TERRY RILEY
Eighty Trips Around the Sun (Riley's suggested title) encompasses a kaleidoscopic spectrum of Terry Riley's cross-genre compositions at the piano, spanning more than half a century.
Cahill has worked with Riley since 1996 when she commissioned the first of his four-hand pieces, Cinco de Mayo, for a festival celebrating the 100th birthday of Henry Cowell at Cal Performances in 1997. She wrote the performer notes for his collected piano works, published by Chester/Schirmer, and has interviewed him several times on the radio, including a joint interview and performance with Riley and John Cale (from the Velvet Underground). Cahill toured with "Terry Riley and Friends" in the Triptych Festival to Edinburgh and Glasgow in 2007, and performed at a 70th birthday celebration at Royce Hall in Los Angeles with Acid Mothers Temple, Matmos, and other performers. In Cahill's class on 20th Century Keyboard Literature at the San Francisco Conservatory of Music, Riley visited the class and improvised four-hands with each of the students.
The other featured pianists on the collection are Regina Myers and Samuel Carl Adams, who is rarely heard on the piano and best known as a composer and jazz bassist. He and Cahill recorded two 45-minute versions of Pauline Oliveros' A Trilling Piece for Terry after midnight at the University of Missouri-Kansas City concert hall after Oliveros suggested that this piece, a page of instructions for trilling on the keys, on the strings, the wood, and all parts of the piano, could be performed as a duet. Pauline Oliveros had been friends with Riley since 1956 when they met in a composition class in San Francisco.
---
More from this collection