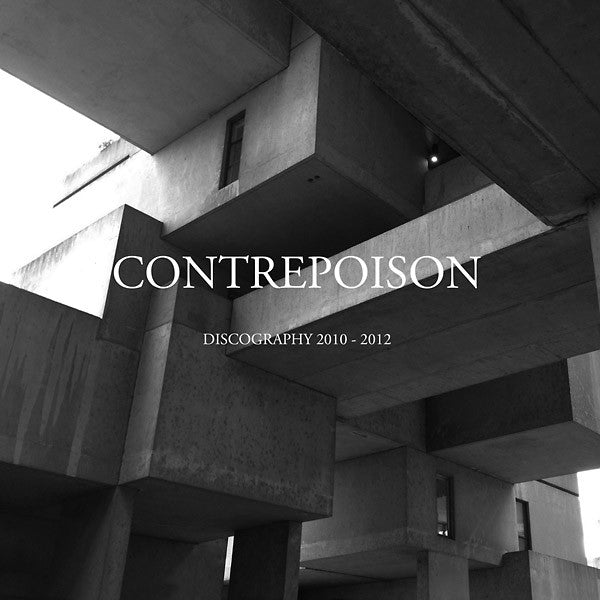 Forced Exposure
Contrepoison - Discography 2010-2012 LP Vinyl
Contrepoison - Discography 2010-2012 LP Vinyl
Hospital Productions collect some of the strongest cold-wave pop dirges of a generation with 
Contrepoison
's 
Discography 2010-2012
 survey, wrapping up both his self-released tapes and releases for 
Dominick Fernow
's cherished imprint. Since the late '90s, Québécois musician and noise artist 
Pierre Marc-Tremblay
 has been recognized as a vital force in nether musical realms with a palette ranging from hermetic black metal (
Akitsa
) to the bitterest rhythmic noise (
Âmes Sanglantes
), and, more recently, the nerve-bitingly melodic pop of Contrepoison, whose 
I Keep On Searching
 12" (2012) - included here - is a firm fixture. Arriving at the vanguard of a new slew of cold-wave revisionists and fetishists in 2010, his music stood, and still stands, head and shoulders above the rest thanks to an incessant drive and directness that can't be ignored by anyone into the original stuff, or who has arrived via the sound's prevailing, contemporary winds. Vacillating belting vocal pop arrangements with howling, stygian instrumentals of synth, guitar and enslaved drum machines, 
Discography 2010-2012
 drags a perfectly malformed body of work, cycling chronologically from the pounding mix of industrial kicks and neo-folk cadence of 
...Until Next Morning
's amazing title cut (2010), to the blank-eyed dirge of "To Never, Forever", before taking in the stomping "Deserted Story" from his 2011 split with 
Vatican Shadow
, and committing the fucking addictive hits of "I Keep On Searching", best summed up in that raging, glam title tune and sandwiched with aces from the compilation 
Around The Dragon's Broken Neck Hangs The Medal Of Saint Lazarus
 (2010). It only gets more wonderfully bombed out and crestfallen from therein, from the plangent siren call of "Nectar Of Destiny" to the exclusive instrumental, "The Moon Has Mad The Eclipse", and a grip of killers off 
The Thunders Which Collide
 tape (2011), including the raging banger "The Thunders Which Collide" and another cut exclusive to this set in the instrumental, "As The Blazing Sun Enters Scorpio". Basically, it's riddled with memorable hooks and rages like a wounded beast trapped down a well. RIYL: 
Cold Cave
, 
Prurient
. Edition of 500.
---
More from this collection