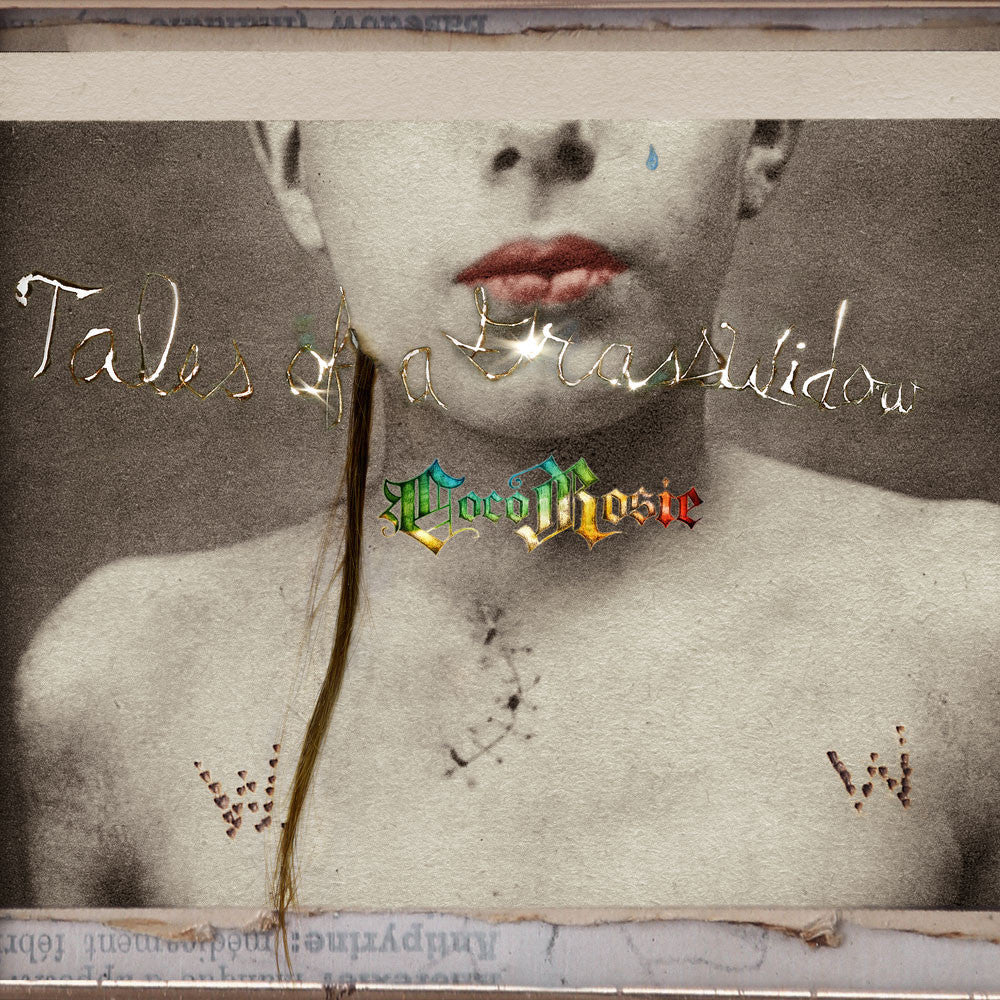 Forced Exposure
CocoRosie - Tales Of A GrassWidow / LP
CocoRosie - Tales Of A GrassWidow / LP
This summer, American duo CocoRosie aka sisters Sierra and Bianca Casady will release their first album in three years, Tales Of A GrassWidow. This is their fifth studio album, and marks their first self-release title after having previously been on SubPop and Touch & Go Records.
Produced in collaboration with Icelandic composer and producer Valgeir Sigurðsson and enriched by a whole host of guest performances, it's a brave record, synthesizing electronic and organic sound to convey a futuristic, back-to-nature feeling. The sisters boldly tackle topics most wouldn't dare including child abuse, drawing parallels between the treatment of children, especially girls, as disposable and the destruction of the earth's resources. CocoRosie sing eye-opening accounts of unsayable things, yet their music ultimately celebrates a spiritual freedom attainable in the purely natural world Their songs blend a myriad of styles and references, from hip-hop and reggae through to folk and opera, shaping the most painful of experiences into memorable and evocative pop songs.  Taken as a whole, CocoRosie's music is an ongoing psychologically intimate dialogue between the siblings. Each sister has her own persona and vocal delivery; Bianca delivers hard-hitting truths in a childlike voice whilst Sierra responds in pure open tones, playing a range of instruments including the harp, flute, piano, and guitar.
Amongst the 11 tracks that weave together to create Tales of a GrassWidow is "Gravediggress," whose recent release to the web saw CocoRosie warmly welcomed back by fans and critics alike. It's a foreboding track, representative of the album's overarching theme, the tale of an imagined conversation between an abandoned child and an outcast old woman. The young girl asks the Gravediggress to bury her love in the ground for safekeeping.  With a wistful pump organ introduction, Bianca imparts the entreating child's words, and Sierra, in haltering, but clear tones sings for the old woman.  Their voices blend and overlap, suggesting the woman and child are the same person.  Simple piano chords accompany their vocals, with chimes and a marching drum rhythm composed of beat box from CocoRosie's longtime collaborator, Tez.
Friend and sometime collaborator Antony Hegarty, evoking the voice of Mother Nature, sings on the record's second track, "Tears for Animals" and the album closer, "Poison." "Child Bride" - awakens the image of grass blowing outside the window soothing a five-year-old girl given away by her family; In "After the Afterlife" the narrator recalls details from the physical world now out of reach; wet snails, moth wings and ashes from a day lit fire. "Roots Of My Hair" describes a solitary child happy with the company of a sparrow.
In their ten years as CocoRosie, the sisters have released four albums: Grey Oceans (2010), The Adventures of Ghosthorse and Stillborn (2007), Noah's Ark (2005), and their first album "La maison de mon rêve" (2004) -- each one inspiring controversy and debate in equal amounts to praise, such is their fearlessness and willingness to take risks with their art. This strong creative vision runs through every aspect of their work - from videos to live performance utilizing theatrical costumes and make up which they create alongside each new body of songs.
---
More from this collection