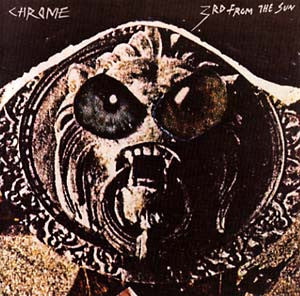 Noiseville
Chrome: 3rd From the Sun
"Noiseville is very proud to have the chance to reissue these absolutely must-have traces of interstellar psych perfection from San Francisco's legendary Chrome. The sound was beefed up, and each was repackaged with the original art from their initial release back in the early '80s. These 3 albums (
Alien Soundtracks
, 
Half Machine Lip Moves
, 
Third From The Sun
) are classics and should never have gone out-of-print. But due to fighting within the band, these CDs will not be repressed and most unfortunately, the LP counterparts never made it past the test pressing stage, until the dispute has been settled by the courts, this is it." 
Third From The Sun
 was originally released on Siren Records in 1982, right before the band's break-up, with Damon Edge and Helios Creed chuddering out creepy post-garage industrial murk. 
Third From The Sun
 sounds more conventional rock than their prior releases, while still maintaining the garbage-y, weird-space psychonaut vibe that would be their trademark. Grinding guitars, terrifyingly creepazoid vocals, and a bass that sounds like rocks thudding off of someone's head.
---
More from this collection