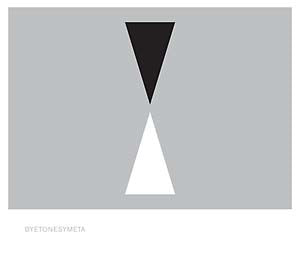 Forced Exposure
BYETONE - Symeta CD
BYETONE - Symeta CD
Byetone
's new record 
Symeta
 opens with a combined track -- a transit -- since "Topas" and "T-E-L-E-G-R-A-M-M" could be seen as one single piece. Both tracks convey the atmosphere of a live session rather than the character of a studio production. The tracks are quite long and deal with repetition, layers of sounds, density and energy, more than melodic and engineering finesse. The whole album follows this approach, as it was fashioned within the context of live performances during the last two years. "Neuschnee" -- the third track -- has an obviously reduced tempo, creating a wide landscape of sound with an intimate aura, which works as a counter draft to the other tracks on the record. With "Opal," the tempo speeds up again, a polyrhythmic phrase whirls around a straight beat, filters are turned, all that evokes the impression of early-'90s minimal techno. Byetone is basically interested in remembering, in a way to preserve, in citing rock/pop styles, without getting stuck in the past, whereas none of the tracks really fit into a specific genre. Seen from this perspective, "Helix" opens the final, more rocky block of the album. Here, the tracks are offensive and rude and sound like a band in a rehearsal room. This part peaks with "Black Peace" in a high-speed heavy metal session. Finally, "Golden Elegy" closes 
Symeta
 and a band-like situation occurs. The track ends with a wired lament, presented by 
Jan Kummer
 in the tenor of Chemnitz, hometown of both artists. In former GDR-times, they started their musical activity with the brilliant, dilettantish 
AG.Geige
, together with 
Frank Bretschneider
 (
Komet
). 
Symeta
, the title of the album, appears mysterious. This synthetic word arouses associations with symmetry, synthesis or (meta-)structures. It doesn't stand for a definite object, there isn't any solution, and that is the reason why the title has been chosen. Byetone's music tries to create such associations without really fulfilling these expectations. In this sense, 
Symeta
 consequently follows 
Death Of A Typographer
 (R-N 092CD), this album's well-received predecessor.
---
More from this collection