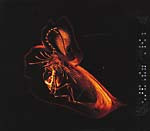 Skam
Bola Gnayse CD
"In the scheme of things there are a number of electronic artists now who have, by releasing quality album after quality album become modern-day classic electronic artists. Darrell Fitton (aka Bola), although he'd never admit it, is one of these alongside Autechre, Boards Of Canada, Plaid and Aphex Twin. The reason you probably know little about Bola is that he's easily the most reclusive of these, though we'd argue that his music is equal, if not better in terms of form and beauty. Bola hails from Rochdale the same northern town as Gracie Fields and Autechre who, incidentally, introduced Darrell to the Skam label (Autechre that is, not Gracie). They also collaborated on another Skam project, Gescom, but where friends Autechre perhaps reflect the industrial heritage of Rochdale in their uncompromising compositions, Bola's sound is that of the surrounding hills, moors, streams, canals. Something more gentle and thoughtful (an interesting contradiction considering his studio's in the centre of town).
Gnayse
is the third Bola album following on from
Soup
and
Fyuti
. We reckon it's the most complete -- one of those perfect albums with a beginning, middle and an end,
'Soup's a bit naïve to say the least'
explains Darrell of his earlier work.
'I hope people think I have gone forward, I might be going backwards'
. A statement from Darrell that unintentionally sums up the timelessness of Bola's music in fact he listens to hardly any contemporary music,
'I'm a jazz head -- that's what I listen to, jazz and classical. I don't really listen to electronica at all.'
Mind, we advise you not to take Darrell's advice and if you listen to any electronica listen to Bola."
---
More from this collection