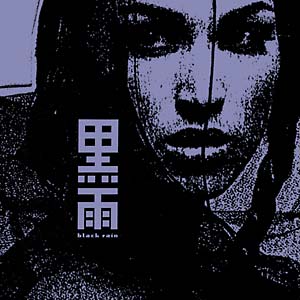 Forced Exposure
BLACK RAIN - Dark Pool LP
BLACK RAIN - Dark Pool LP or CD
LP version.
Dark Pool
is the new studio album from
Black Rain
, the project's first in 18 years. Produced in New York City by
Stuart Argabright
, Black Rain's founder and figurehead,
Dark Pool
is a work of hard-edged sonic fiction rooted in cyberpunk's quintessential neo-noir cityscape/dataspace but projecting into a farther future of biotechnological advancement and alienation. Stuart Argabright first landed in New York in 1978. By day, he worked as a landscape gardener for the upscale likes of
Rock Hudson
and
Bob Dylan
, while at night involving himself in all manner of subcultural activity -- the reverberations of which are still being felt today. He co-founded seminal no wave minimalists
Ike Yard
(whose early 1980s work has been cited as an influence by the likes of
Kode9
,
Young Echo
and
Silent Servant
), collaborated with the late
Rammellzee
in futurist hip-hop outfit
Death Comet Crew
(recently reactivated for an LP on
Powell
's Diagonal label) and as
Dominatrix
scored a bona fide club hit with the downtown electro classic "The Dominatrix Sleeps Tonight" (1984). Black Rain was revived in the wake of 2011's
Now I'm Just a Number
's release and Argabright has toured extensively under the name and in 2013 released an EP of live recordings,
Protoplasm
, on BEB. Three of the EP's four tracks appear here on
Dark Pool
in radically revised and expanded form: the stuttering ribofunk of "Endourban" is now anchored by ominous string pads faintly redolent of Argabright's label-mates
Raime
, while "Data River" revisits the accelerated beat-stream of Black Rain's 1996 album
Nanarchy
, and the low-slung "Protoplasm" has evolved into a sprawling, syncopated techno epic -- the sound of red dawn rising on an illegal replicant rave. A further seven new productions feature. "Burst," its title perhaps a nod to
Sogo Ishii
's 1982 biker gang saga
Burst City
, harks back to the scrap-metal-banging brutalism of Black Rain mk.1; "Xibalba Road Metamorph," the album's angry, anguished centerpiece, externalizes the sadness and self-loathing of
Jeter
's oppressed post-human workforce. "Night in New Chiang Saen" reimagines dub as the viral product of one of AgriGen's morally-suspect scientific initiatives in
The Windup Girl
, before "Who Will Save the Tiger?" calls upon spidery, Metalheadz-esque breakbeats and wailing guitar drones to summon a 23rd century Ark. Vocals (on "Profusion" and "Profusion II") from
Zoe Zanias
(
Keluar
), and a brief spoken intervention from
Sean Young
(who of course played
Rachel
in
Blade Runner
) are simply the most audible manifestations of a dejected feminine presence that haunts the entire album. For all its textual references,
Dark Pool
is a visceral and straight-talking affair: its body-hammer rhythms and brooding sound design require no explanation for their impact to be felt.
vinyl version includes download code for mp3/FLAC
---
More from this collection