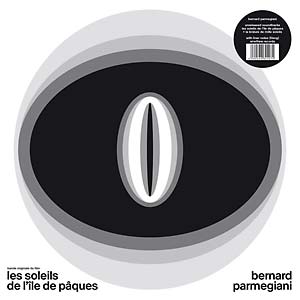 forced exposure
Bernard Parmegiani - Les Soleils De l'Île De Pâques 2xLP
Double LP version. 140 gram vinyl. Gatefold sleeve. Includes liner notes (French and English). WRWTFWW Records announce the release of two never-released-before soundtracks by French award-winning composer, audio experimenter, electroacoustic, and musique concrète magician, and all-around sound visionary
Bernard Parmegiani
, sourced from the original reels, and with English and French liner notes.
Les Soleils De l'Île De Pâques
(1972), by French director
Pierre Kast
, is a sci-fi feature which secured itself a well-deserved place in the pantheon of mysterious cult films thanks to hallucinatory (and superb) cinematography, exploration of supernatural phenomenon and occult symbolism, and one hell of a trippy atmosphere.
La Brûlure De Mille Soleils
(1965) also comes from Pierre Kast, but this time with the help of none other than writer, photographer, multimedia artist, homme à tout faire
Chris Marker
-- notably known for films
La Jetée
(1962),
A Grin Without a Cat
(1977), and
Sans Soleil
(1983) -- who edited this bizarre short to brain-melting results that live up to the promises of its synopsis: A depressed millionaire poet, accompanied by his cat Marcel and a sign language robot, travels in time to shake a persistent feeling of ennui and falls hopelessly in love with a woman from another planet. 'Nuff said! A renowned member of the prestigious GRM (Groupe De Recherches Musicales, the French equivalent of the BBC Radiophonic Workshop) and frequent collaborator of
Pierre Schaeffer
,
Iannis Xenakis
, and
Pierre Henry
, among others, Bernard Parmegiani does what he does best with these two rare soundtracks: create moods with electroacoustic experimentation, elevating the weird and hypnotic with soundscapes from other dimensions, and cementing his status as a true innovator.
---
More from this collection