Arturia
Arturia Rackbrute 6U Clearance Sale!!
Arturia Rackbrute 6U 
marked down from $349 to 299!
RackBrute 6U provides you with 176HP to store and secure your enviable collection of Eurorack modules in an everlasting yet lightweight aluminum chassis flanked by two wood panels. Once you're locked and loaded, your modular setup will look and feel like a monolith, yet more flexible than ever thanks the Link fastening system and the paired handle. When on the move, it will make the transport of your modular equipment a walk in the park. When in position, it will let you organize your command center the way you want it. Modules don't live on love alone, and RackBrute 6U keeps everything alive with its +12V / -12V / +5V power supply.
1. Power module
Power supply with 1600mA +12V output, 1600mA -12V output and 900mA +5V output. 5HP width.
2. Screw holes to connect modules
3. Power and signal distribution
connect up to 32 modules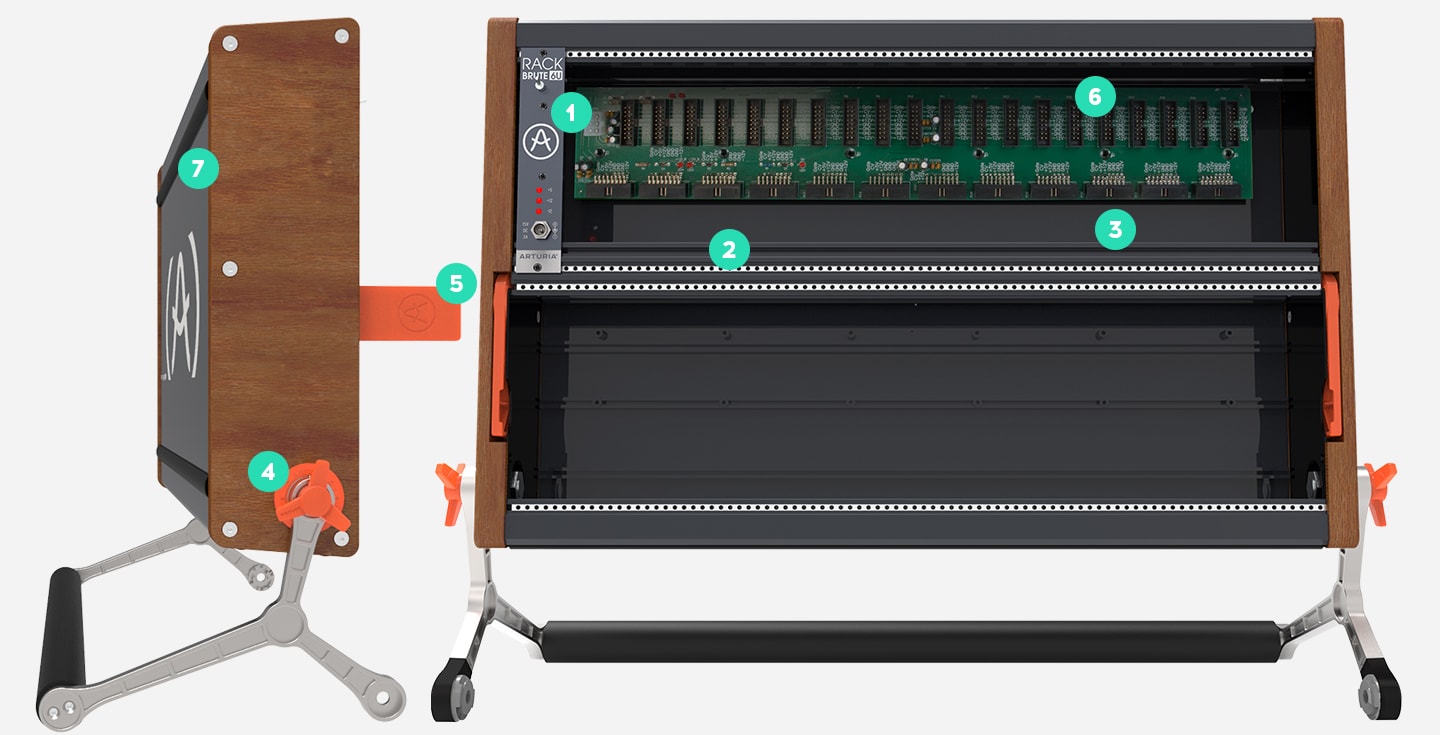 4. Link system
use RackBrute in various configurations
5. Retractable stops
protection for folded configuration (requires another Link-ready unit)
6. 176HP total width
171HP available when power supply module is connected
7. Anti-slip strips
Keep everything nice and steady when RackBrute is placed face-up.
Go, go, go!
Don't worry, RackBrute 6U will keep mishaps at bay.
The success of your operation depends on your sensitive material arriving in perfect working order. RackBrute 6U is up to the challenge. The handle, the chassis, the threaded nut strips, each of its strategic components is made aluminum or steel. RackBrute will carry your setup no matter the context, not matter the weight, the distance and the destination. The built-in spacers will also make sure that no collisions occur when transporting two RackBrute units or a RackBrute and MiniBrute 2. Maybe you also want to keep your modular away from prying eyes. Then, trust the optional RackBrute Travel Case for more covert missions.
RackBrute 6U is the complete transport solution for when you need to take your show on the road.
Eurorack format, 176 HP
Aluminum Chassis
Provided with a 5 HP power module

Up to 1600mA on +12V and 1600mA on -12V (4 separate circuits of 800mA)
Up to 900mA on 5V

Power rail with

Noise filtering
32 standard power slots
20-slot zone with up to 800mA on +12V and -12V
12-slot zone with up to 800mA on +12V and -12V

Link system and smart handle to fasten a MiniBrute 2/2S or another RackBrute unit in various configurations
Built-in Spacers for the highest protection in transport configuration
Box contents
RackBrute 6U unit
Power cord
Size & weight
Instrument size : 19 x 13.2 x 3.3 inches (484 x 300 x 83mm)
Instrument weight : 8.3 lbs. (3.76 Kg)
---
More from this collection