Arturia
Arturia Minibrute 2 Clearance sale!
Arturia Minibrute 2 marked down from $649 to $420!!
1. VCO 1
Sawtooth, Pulse and Triangle waves with unique modifiers and direct FM control. Ultra Saw makes for huge sounds, Metalizer adds complex harmonics to the triangle wave. FM generates rich tones.
2. VCO 2
Selectable waveform between sine, saw and square. Multiple tuning modes for fine, coarse or LFO operation.
3. Oscillator Mixer
Allows for mixing the levels of the individual waveforms of the oscillator 1 and 2, the noise generator and the external inputs.
4. Steiner-Parker Multimode Filter
Beefy filter with Low Pass, High Pass, Band Pass, and Notch modes. Resonance can be pushed into self oscillation.
5. 4 Stage Envelope
ADSR Type Envelope generator.
6. Brute Factor™
The Brute Factor™ can add subtle drive effects to full blown intermodulation havoc.
7. AD Envelope
This modulator can generate AD, AHR or loopable envelopes. Its Attack and Decay times are CV-controllable, too.
8. Patchbay
48 CV inputs and outputs to control many elements of the synthesizer and sequencer. Some utility modules provide extended possibilities.

9. Two LFOs
Both LFO supply 6 waveforms and can run in sync to the Sequencer. Very fast rates can be obtained.
10. Sequencer/Arpeggiator
Flexible sequencer or arpeggiator allows for instant melodic phrases. Syncs to MIDI clock over USB and MIDI In to play in sync with your favorite DAW.
11. Performance Controls
Mod Wheel & Aftertouch destinations and Pitch Bend amounts can all be set.
12. Keyboard with Aftertouch
25 note velocity-sensitive keyboard with aftertouch. Octave buttons allow transposition of up to 5 octaves.

13. Audio In/Out
Line and headphones outputs.
14. MIDI In/Out
Connect and sync MiniBrute to any DAW or hardware MIDI equipment.
15. USB In/Out
Control MiniBrute from your DAW or use it as a master keyboard
Box contents
MiniBrute 2 unit
Power cord
Perfectly realized right down to the smallest detail, MiniBrute 2 also includes
8 patch cables
a "Cook Book" jam-packed full of superb sonic recipes for you to try out, put together by some of the most illustrious synth-chefs around.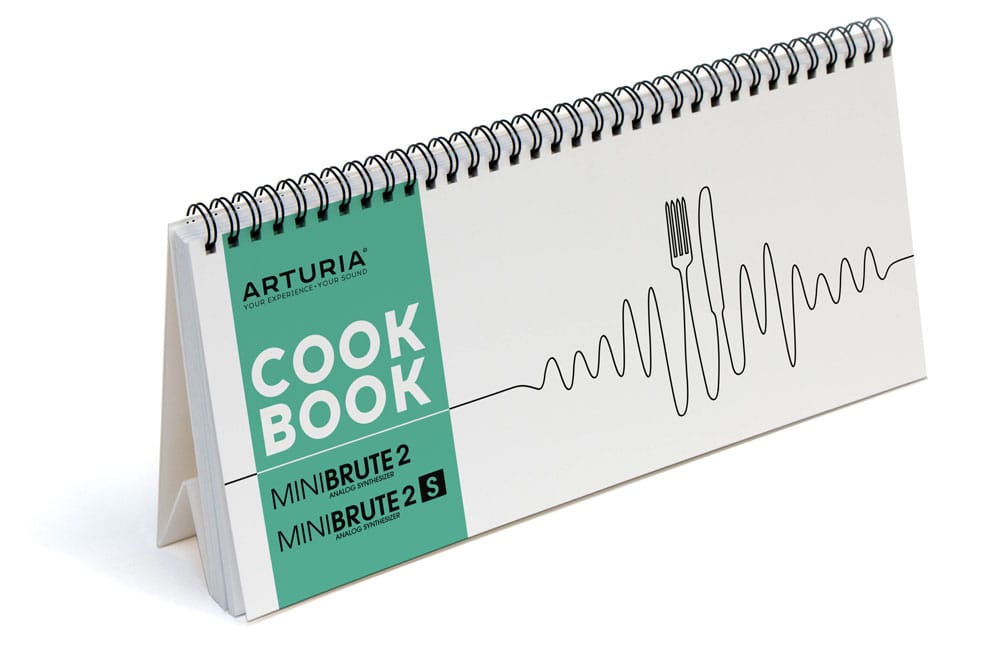 Size & weight
Instrument size : 19 x 13.2 x 2.3 inches (484 x 336 x 58mm)
Instrument weight : 10.6 lbs. (4.8 Kg)
Main Features
Analog Synthesizer
2 Analog VCO's:

VCO1 : Saw + UltraSaw, Square +Pulse width, Triangle + Metalizer. (Waveform mixing)
VCO2 : Sine, Saw, Square waveforms (three tuning ranges).

VCO 2>1 Hard Sync, VCO1 linear and exponential FM
White Noise Generator
External Audio In
Steiner Parker filter (12dB per octave): Low Pass, High Pass, Band Pass, Notch modes.
2 LFO's with Sync: Sine, Tri, Saw, Square, Random, Slew Random
1 ADSR envelope
1 AD envelope

Trig, Gate modes
One shot or Loop
Attack and Decay times CV controllable

48-point CV and Gate patchbay

Inputs and Outputs for the voice and sequencer
Utility modules: inverter, attenuators, VCA

25-key velocity and pressure sensitive keyboard
Arpeggiator types : Up, down, inclusive, exclusive, random, note order, double up, double down modes
Sequencer mode:

8 step-sequences with Rest, Tie and Legato note entry
Each sequence can have up to 64 steps

MIDI and USB I/O
---
More from this collection