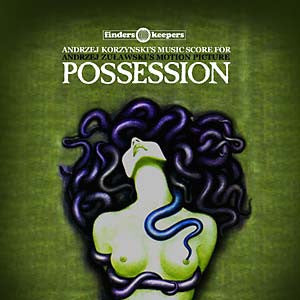 Forced Exposure
ANDRZEJ KORZYNSKI - Possession - LP
ANDRZEJ KORZYNSKI - Possession - LP
2017 repress. Finders Keepers Records presents Polish composer 
Andrzej Korzynski
's previously unreleased electro/orchestral/experimental score for 
Andrzej Zulawski
's surrealist 1981 horror classic, 
Possession
. These 25 cues were written and recorded exclusively for the 1981 award-winning film starring 
Isabelle Adjani
 and 
Sam Neil
, but due to the progressive, stark and modernist nature of the finished film, less than half of them made it on to the actual director's cut - leaving many of the tracks on this package totally unheard outside of Korzynski's studio. The intended 
Possession
 score in its entirety marks an important axis in Korzynski's career where his various musical disciplines overlap. In one respect it marks his first forays into to synth-driven electronics and disco drum machines, while other tracks epitomize the well-honed techniques used in previous Zulawski scores, such as 
Third Part Of The Night
 (1971) and 
The Devil
 (1972), which rely on his inimitable orchestral arrangements and combination of clavinet, Rhodes, piano and electric guitar. This is the first time any of this music has been released outside of the film's original context and is packaged on CD, vinyl and conceptual green compact cassettes housed in miniature clamshell cases reminiscent of the film's original VHS release that briefly adorned UK video shops in the early 1980s (before being banned by over excited censors as one of the unproscecuted "video nasties" in the infamous 1983 tape cull). The important restoration of Korzynski's music aims to shed new light on the seldom manufactured productions of the composer whose vast cinematic catalogue warrants overdue global status alongside other golden era Eastern European composers such as 
Kryzstof Komeda
, 
Jan Hammer
 and 
Zdenek Liska
 - not to mention the best of the French and Italian soundtrackers, such as 
Roubaix
, 
Vannier
 and 
Nicolai
. Duplicated and carefully remastered directly from Korzynski's original master tapes this album boasts the uninhibited studio experiments and retains the pre-cut ambience. "
Best soundtrack of 2012. 5/5
" -- MOJO.
---
More from this collection